Hounds for Heroes:
Swanwick Lions support 'Hounds for Heroes': Hounds for Heroes provide specially trained assistance dogs to injured and disabled men and women of both the UK armed forces and civilian emergency services.
The charity aims are to provide help and practical support leading to an enhanced quality of life for their clients.
In 2012, Swanwick Lions presented a cheque for £1,000 to Allen Parton, the Founder and Vice Chairman: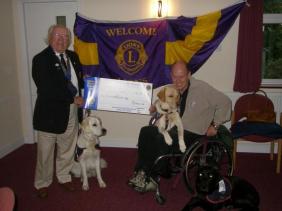 Initially Hounds for Heroes intends to raise £100,000 to buy 5 Labradors, the Puppies on Parade Appeal, and these dogs will be carefully selected for the qualities needed to produce excellent assistance dogs. The Charity will carefully select puppy parents to start with this very essential part of their training. After around 15 months the specialist training will start, with a combination of puppy parents and the new owner. All the time the puppies will be meeting on a weekly basis to carry out socialisation and specialist training. When the dogs are fully trained the ownership will be fully transferred to the new owner.
More information on the Charity and the wonderful work they carry out can be found by visiting their website: www.houndsforheroes.com