Swanwick Lions in Action - scroll down to see more photographs....
2018:
November 19th- Presentation of new Fridge to 1st Sarisbury Green Scouts.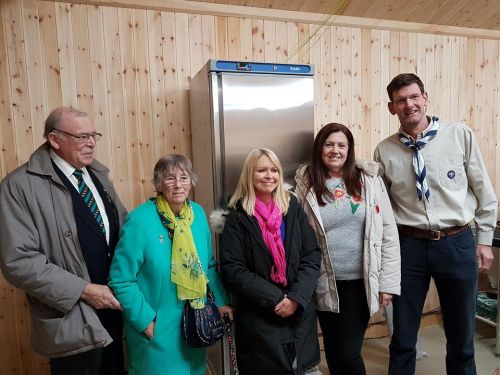 Our President Marian Rose, and other members, Vic Smith, Kate Scott and Net Cooper officially handed the fridge over to Scout Leaders Toby, and Carol.
2017:
2012:
Lions Day 3rd June- picnic lunch for local senior residents- at the Burridge Village Queens Diamond Jubilee Big Lunch:-

March- Tree planting at Manor Farm Counrtry Park:-

January- Swanwick Lions Club Past President ( 2011-12) Ivor dugdale- Jenkins and Fund raising Chairwoman Helen Mitchell present our £2,000 cheque to the Rainbow Centre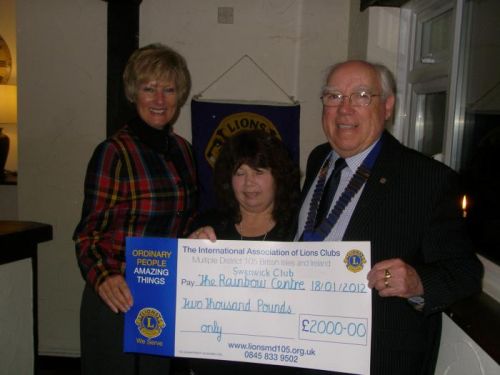 2011:-
January
Saturday 29th January- Lion Past President (2010-2011) Fred Mitchell, presents our £2,000 cheque to the Countess Mountbatten Hospice,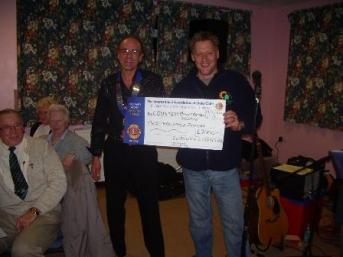 2010:-
Duck Race August Bank holiday Monday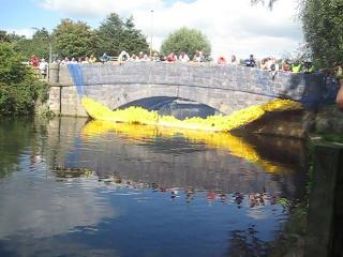 and splash!!!- down go 2,500 yellow plastic ducks!!!!
25th June - Parachute Jump in aid of Hampshire & Isle of Wight Air Ambulance
Ready to go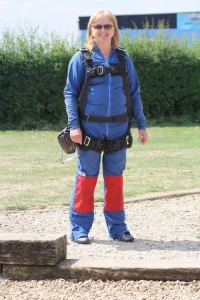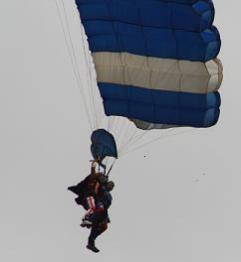 parachuting in...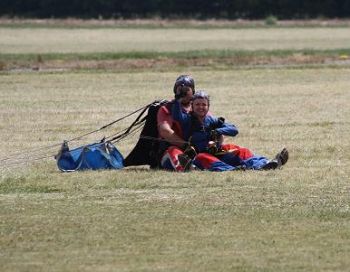 Landed - phew!!!
2009:-
13th June- Presentation of Cheque to the Guide Dogs for the Blind Association
Lion President Barry Woolcott presents Swanwick Lions £5,000 cheque to the Guide Dogs for the Blind Association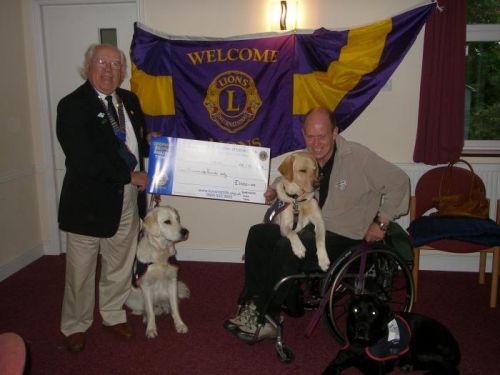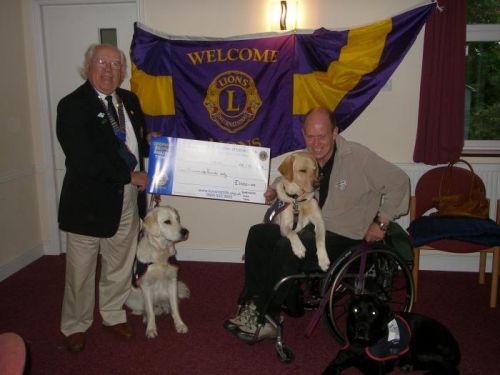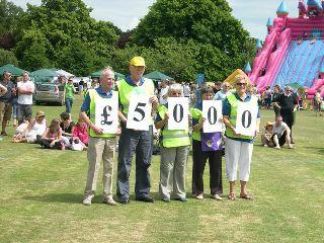 The 5000 presentation team!!!

Lions Day -Sunday 7th June
Local elderly residents enjoying afternoon tea at Lions Day.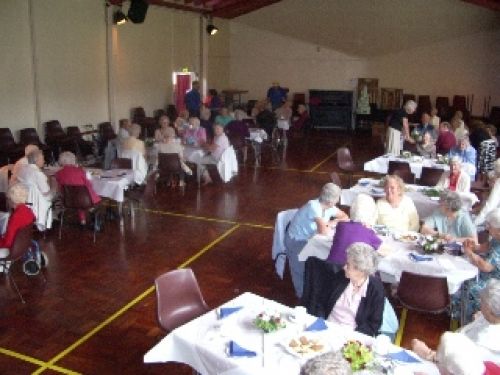 2008:-
4th June - Presentation of Cheque to Smile4Rich campaign
Swanwick Lions President,(07-08),Vic Smith, Presents a cheque for £2,500 to Smile4Rich Appeals Director Mr Neil Westbrook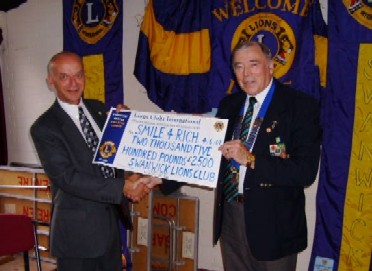 Burns Supper- 19th January
Piping in the Haggis: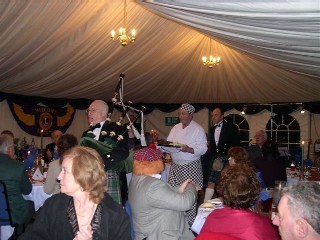 We held our annual Burns Supper at the Fairthorne Manor Golf Club. A grand evening, and many thanks to the Chef for an excellent Haggis dinner!!! Also thanks to the attentive staff, who served the meal efficiently and courteously. A convivial evening of Burns' songs and poetry, with a bit of dancing to liven up the proceedings. Music and songs were provided by the six piece band, 'All Fingers 'n Thumbs'.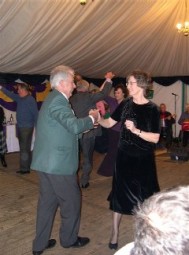 The Gay Gordons (the dance, that is- not the dancers!!!!)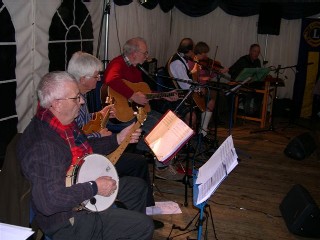 The band striking up another melody.......
Social Evening for Friends of Lions- 12th January
Swanwick Lions rely on help from friends, and we are fortunate in having Friends of Lions who, although unable to take the commitment of Lion membership, are able to assist us at our events throughout the year. The Sleigh ride is a very heavy commitment, which we would have great difficulty in maintaining without our Friends, and we like to give a special thanks to all those who assisted Santa on the Sleigh.
This year we did this by having a Supper and Quiz evening. Our Social Chairman, Lion Barry Woolcott, arranged and cooked the meal, with a great deal of help from Beryl Walsingham, Joan Turner ,and Lion Micky Turner.
Lion Brian Baker, compiled and ran his usual ' quirky quiz'. (He stated that it was not as quirky as the last one, but from where I was sitting some of questions were, well, questionable!!!!).
2007:-
December -Santa & his Sleigh
Santa was out with his sleigh throughout December, helped by Lions and friends. we were very fortunate with the weather, having only one day cancelled due to inclement conditions.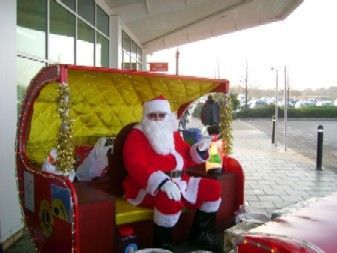 Craft Fair November 24th 2007
Our annual Craft Fair is held at at the Lockswood Centre in Locksheath, and was another successful event, with the main trade taking place in the morning. If you are interested in taking a stall for the 2008 event, please use the 'Contact Us' button from the main menu at the top of this page.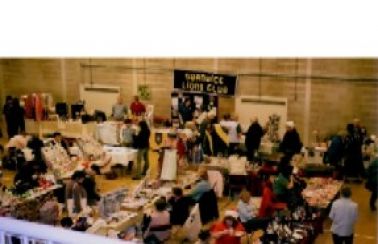 Changeover of Club Officers 14th July 2007
This important annual event was held at the Fairthorn Manor Golf Club, Botley.
Two Lions were awarded the prestigious Lions International Melvin Jones Fellowship, for services to the Community and Lionism over many years.
Lion Micky Turner receives the Melvin Jones Award:-
Lion Alan Ketchell receives the Melvin Jones Award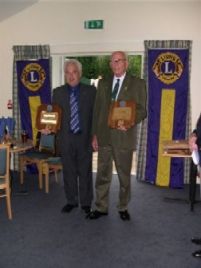 Our two new proud Melvin Jones Fellows!!!
President Fred Mitchell then handed over the "gong" to incoming President Vic Smith, who proceeded to 'badge-up' the Officers for the forthcoming business year.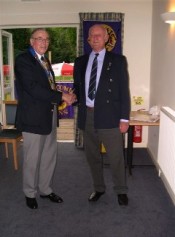 21st June- Presentation of Cheque to the 'Gift of Sight' Eye Research Centre,
Southampton General Hospital
Prof Lotery receives a cheque for £2,000 from Swanwick Lions President Fred Mitchell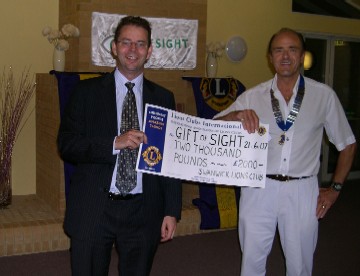 Sarisbury Green Fete- June
The 'Human One-armed Bandit' in action....................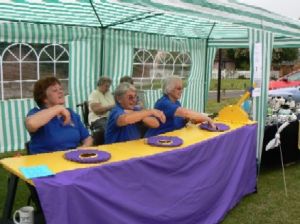 The Lions BBQ:-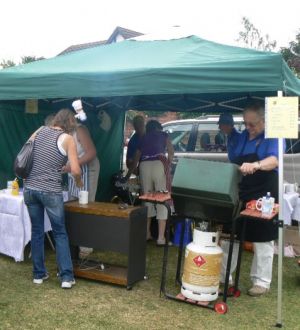 Swanwick Lions 'EYE' and collecting tubes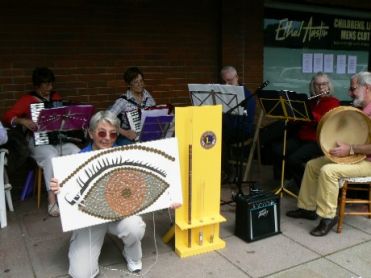 Supported by the Birnie Boozle Band...........
(PS the background posters are part of the Co-op window display- they don't refer to the band!!!!!!)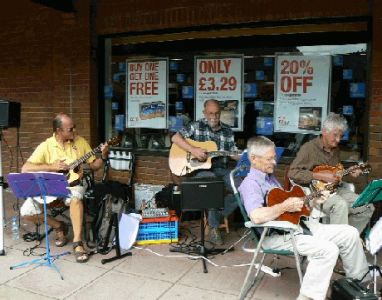 Crofton Lions St Georges Day Fete April 2007
Lion Alan Ketchell explains Sighfirst II to the Mayor of Fareham and his wife..